Marjorie McAlpine Moore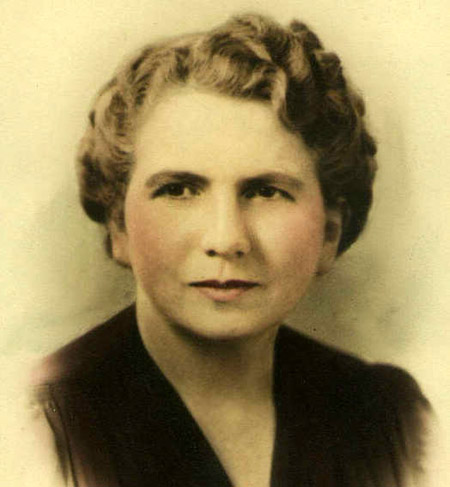 Born to Robert Eugenius McAlpine and Anna Ballagh on April 16, 1895 in Kobe, Japan
Youth: She was left in Columbia, SC, with Thomas Bryan and his wife ("Uncle Tom" and "Aunt Fanmy" who had no children of their own) when her parents returned to the mission field in Japan. She was at about the same age as when John Watson was left with his grandfather. The Bryans sent her to college and later gave money to her for building a home after their first son, John Wilson, was born.
Education: She attended in Columbia College in Columbia, SC, 1912-1915 and then graduated from Agnes Scott College in 1916. Among other things she loved to swim and play tennis and became the tennis champion of the college.
Married: She married John Watson Moore on August 14, 1919 in Black Mountain, NC .
She was a wonderful wife and mother of four children. She cared for many missionary relatives (both her own and her husbands) when they were in the US - not only housing but feeding them over extended stays. She graciously accomodated highschool faculty who rented upstairs rooms to help with income.
Relieved of her duties as spouse after her husband John's death, she reestablished relations with many women whom she had helped in the past and many now eagerly sought her experienced council and enhanced her social life. She was at last able to enjoy the longed for pleasure of swimming daily at the YWCA. She also started to take up a postponed passion: writing.
Died: She died April 1, 1974 - just before turning 79 - following complications arising from a blood clot in her leg. David Burr conducted her Memorial service in the First Presbyterian Church in Winston-Salem on April 3 1974. Julian Lake presided at her graveside service at the Hopewell Presbyterian Church* in the Moore family plot beside her husband, John Watson.

* On Beatties Ford Rd. near Huntersville and Davidson, NC.