From The Patriot-News
Woman, 95, visits firm started by her father in 1911
Thursday, March 02, 2006 BY TOM DOCHAT Of The Patriot-News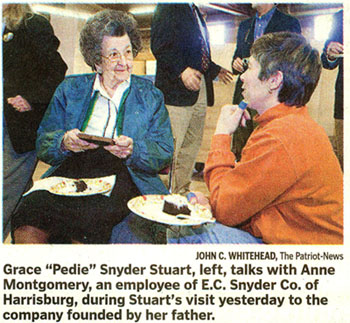 The E.C. Snyder Co. of Harrisburg and the daughter of the company founder have something in common -- they've both been around for 95 years.
Grace "Pedie" Snyder Stuart turned 95 yesterday and celebrated by showing up at the business her father founded as one of the first fully electric woodworking mills in the area.
The business, which now has 32 employees, is still at 250 S. 18th St. in Harrisburg, where it began in 1911. It does custom architectural millwork such as cabinets and reception desks for commercial building contractors. Its handiwork can be found all over the Northeast, from New York to Virginia.
Annual sales are about $4 million, according to company President Kevin M. Miduri.
Miduri said Stuart, who still lives in the city, wanted to visit the mill as part of her birthday activities. Her son, Jeb Stuart, arranged it with company officials.
The company had a cake and a banner to welcome Stuart, and employees signed a memento.
"We're trying to make it as special for her as we can," Miduri said.
Stuart's father, Edwin C. Snyder, started the business, which was incorporated in 1946. The company was then known as E.C. Snyder Lumber Co.
Lehman A. Smith succeeded Snyder after his death in 1968, and the company was reorganized a year later. Smith retired in 1986, and Robert Fackler became president.
In 2004, when Fackler retired, the assets were purchased by Miduri and Carl J. Bedenbaugh, who serves as chief financial officer.
TOM DOCHAT: 255-8216 or tdochat@patriot-news.com